Architectural Metal Canopies
New York City Signs and awnings provides beautiful functional architectural canopies and sustainable shading solutions for a wide range of project types.
Our Architectural Canopies are an exciting approach to the pre-engineered building components market. We pro-active in the use of materials to expand new industry ideas and design. Our extensive knowledge and years of experience separates us from the less experienced fabricators to insure your custom designed canopy will be as unique as it is a reliable and well-built and engineered product you can rely on year after year. From start to finish, design through installations, we pride ourselves on possessing the professionalism and experience to execute the required steps during each phase of your project to produce the highest quality and most affordable canopy systems.
Our fabrication facilities utilize top of the line cutting edge equipment and some of the most skilled fabrication professionals capable of producing a family of products engineered for excellent functionality and performance. Our architectural awning products are engineered to the absolute highest standards and can withstand up to 175 mile per hour winds and can support snow loads to 30lb's per square foot.
Our extruded aluminum structural metal canopies have integrated gutter and a water distribution system that can ensure an even flow of water and moisture that can be managed and diverted in the direction that you desire.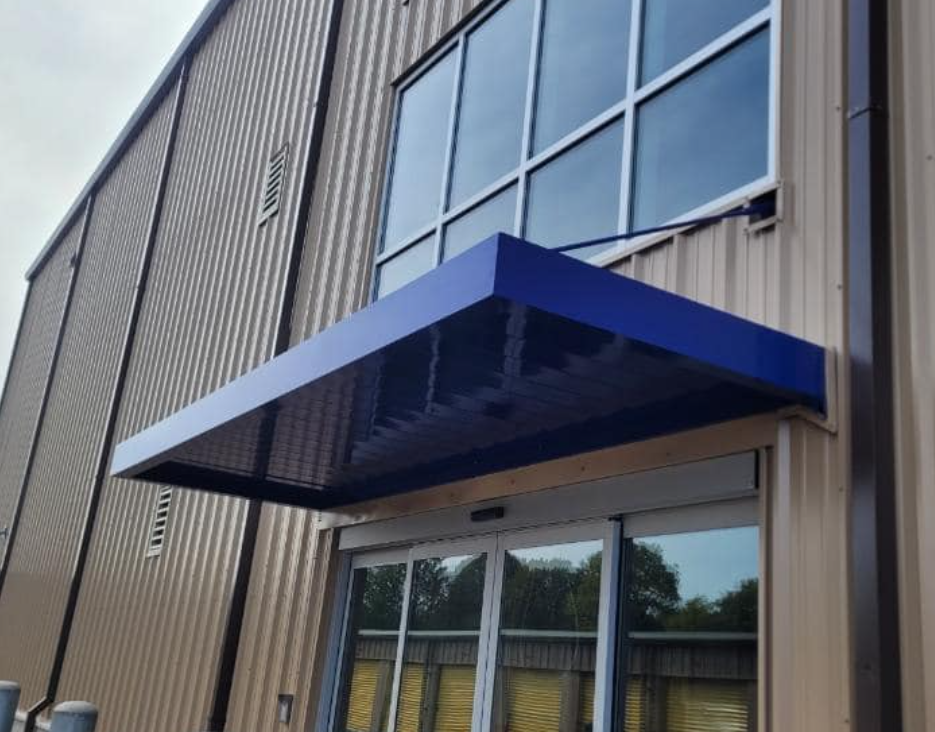 No mater what style awning configuration you choose we have a solution to manage your custom architectural canopy the way you want to.
When it comes to your architectural canopy finish, we pride ourselves on providing the best paints and powder coating finishes in the industry. You can rest assured that your metal canopy will be finished using the best materials available in the business. We provide a multitude of standard and custom finished to satisfy the up to the minute designs and requirements.
Our project management and installation staff pride themselves on getting your canopy to your job site and installing it with the greatest of care and professionalism to insure you canopy products will arrive to the site undamaged and ready to install. Our installation staff are comprised of experience problem solving professionals that will get your installation completed timely properly. You will find our on-site installation staff to be courteous and accommodating to provide a smooth and pleasant on-site installation experience that is second to none. We strive to provide you with your desired result on time and completed to the highest standards possible.
Architectural Canopy Styles and Products
Open Frame Trellis Canopy, with optional fill panels.
Standard canopy systems with innovative flexibility to provide rain and sun protection
Architectural systems with soffit panels that are receptive of a wide range of lighting options
Shutter systems provide functional shade utilizing a commercial grade extruded aluminum construction that can be finished in a multitude of fantastic colors and textures to fit into and environment.
Our open pergola canopy systems provide a fantastic architectural look and can be ordered with or without infill panels.
Our architectural louver and screen systems are a great way to obscure rooftop equipment or provide shade in a decorative tasteful fashion.
We have a wide variety of patio accessories to further the functionality of your outdoor area.
Integrated fencing and railings to help create a safe and defined area adjacent to your architectural canopy.
Wall screen and partitions with 100% aluminum high quality construction and beautifully painted and powder coated finishes
Tables that incorporate our architectural products for a sturdy and professional looking seating area
Hi quality planter boxes that are beautifully made and finished with the same architectural quality you require throughout your projects scope
We have a series of benches that we can fabricate and provide that are a great fix for any outdoor environment.
New York City Signs and Awnings has the capabilities and experience to provide you with the most up to date and high-quality architectural canopies and related products to enhance your establishments outdoor areas and frontage.
Let us create a environment for your business the is beautiful, sustainable, well made, and value engineered to be an affordable and reliable component to the further success of your business and the safety and comfort of you patrons.
We provide architectural canopies and related product to Hotels, Restaurants, airports, retail stores, perks and recreation areas, municipalities, private residences, stadiums and entertainment venues, apartment buildings, and an array of businesses and facilities in New York City and the surrounding areas.
Feel free to contact us to discuss your next architectural canopy project.
Call Us Now (212) 461-1625