Winter Vestibule Enclosures – A Great Way to Showcase Care for Your Customers
During these hot summer months, we sometimes forget how cold and unforgiving our New York City winters can be.  Temperatures can hover below freezing for days and the wind tunnel effect created by those long city streets can bring an icy wind that will chill you to the core.  There is nothing like the feeling of entering a nice warm building after walking through the freezing cold and windy city streets.  But our buildings were not always designed to effectively shield us from wind, snow, rain, and hail. Many of the older city buildings were built without a vestibule or lobby area.  This means that everytime when someone enters or exits through the front door, that cold wind and rain or snow can whip right inside and cause those eating, drinking, shopping or gathering in your building or establishment to be uncomfortable. Not only that, but you may even lose valuable seating area because no one wants to be near the front entrance due to the cold draft.  Retrofitting your building with a lobby which can be an extremely costly and space-consuming project.  Luckily the most cost-effective and energy efficient way to resolve this problem doesn't require a teardown and rebuild of your entrance.  Our solution, a winter vestibule enclosure, will keep your customers dry and warm by creating a vestibule or enclosure that fits perfectly to your existing building architecture.  It allows for guests to enter a small area outside your building that shields the inside from the cold harsh wind before they enter the main establishment.  These enclosures can be configured to many different sizes and shapes, and many restaurants will use a larger version of them to retain an outdoor seating area in the winter time as well. 
With Winter vestibule enclosures, you no longer need to be worried about the threat from chilly winds, snow, or hail. Installing a vestibule is a great way to protect your customers waiting outside your building from the elements while simultaneously providing a cozy atmosphere to the ones already inside. In this post, we'll talk about the benefits of winter vestibule enclosures for your business.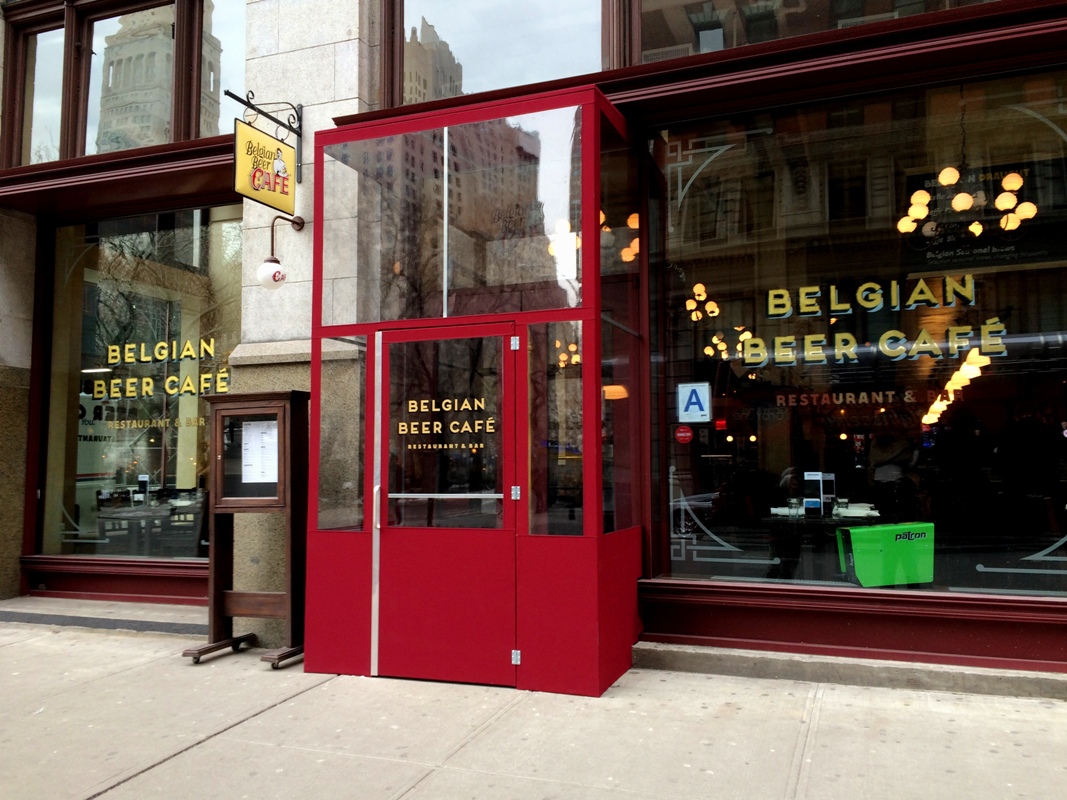 First things first – An overview of vestibule enclosures
A vestibule is a cabin or a small room that is installed at the entry of a building to connect the outside and inside. These structures are made of high-quality outdoor fabric such as Sunbrella fabrics and a steel frame. A vestibule can serve as a waiting room, lobby, closet for coats, or a comfortable resting place for your customers before they enter your building. They can be used to create extra seating areas or to cover an existing outdoor patio. They are also sometimes used as a storage shed.
Benefits of winter vestibule enclosures for your business
Winter Vestibules have numerous benefits. They can also be custom designed for your business. You can request a custom business theme including your business' logo.
Here are some more benefits of a winter vestibule enclosure for your business:
It can act as a windshield to protect customers waiting outside your building

It can allow you to create additional seating space for your customers

It will reduce your energy costs by retaining the cooling or heating in the building

It can guide customers to the main entrance of your building

It can be used as a smoking area outside the office building
Winters are gone – now how will you use the vestibule enclosure?
Naturally, winter will pass. So, what will you do with the winter vestibule enclosure?
Vestibules or entranceways that are no longer needed in the summer months can be removed easily and stored.  We offer a removal and storage service for all our vestibule customers.  Some opt to keep their enclosures set up for the spring or summer, particularly those larger enclosures that cover patio seating areas or that can be used for storage.  Our winter vestibules are completely configurable and enclosures come with removable windows and sliding doors. So, you can use them for seasonally throughout the year. Perhaps an open-air seating area in spring and fall, and fully airconditioned in summers and heated in winters.
Customizing your winter vestibule enclosure
One of the great things about these fabric outdoor enclosures is that they are fully customizable to suit the needs of your business and the look of your entryway.  We can easily match your brand colors and font as well as print your graphics or logo on the outside of the structure.  They can be fit to sit under an existing awning or canopy or they can be created as stand-alone structures.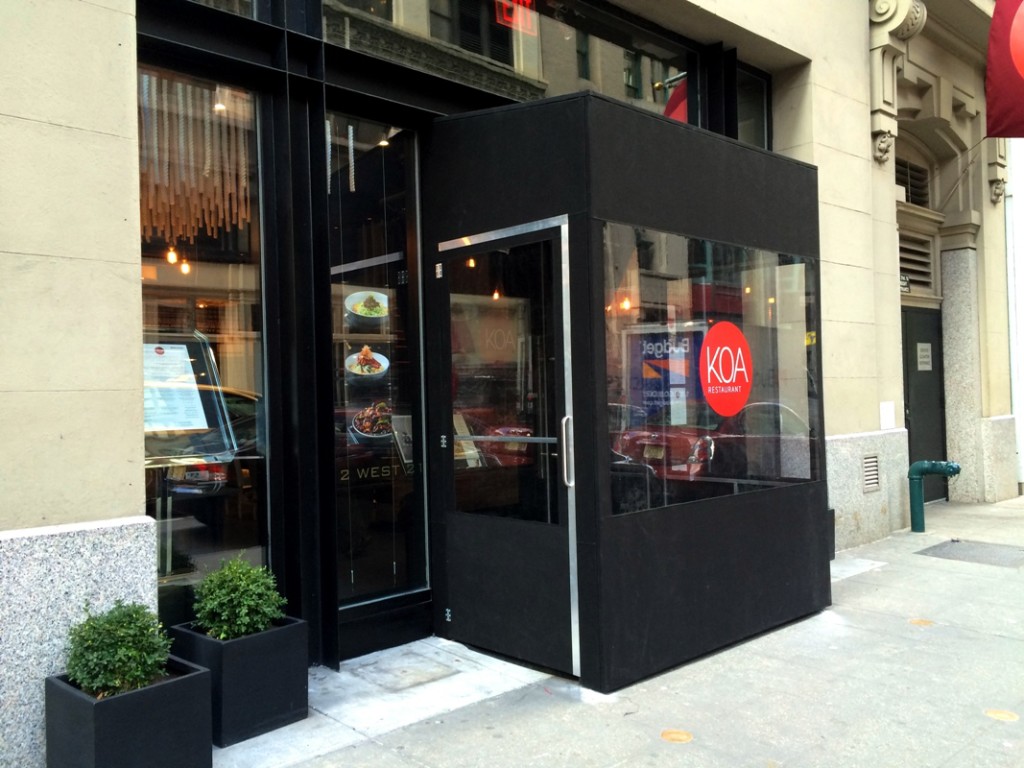 Get custom designed winter vestibule enclosures for your business
Winter vestibule enclosures serve as an ideal weather shield for various types of businesses such as restaurants, retail and apparel stores, coffee shops, and apartment buildings. If you want to take customer experience to the next level, install a vestibule at your building entrance and let your customers see how much you care about them.
Call us at 212-461-1625 or request a quote today and let us know your design requirement. We promise we'll create a winter vestibule enclosure matching your needs and imagination. If you'd like more info you can visit our dedicated product website at https://www.wintervestibule.com.